Brother Blue Team Bass Tournament
Proceeds benefit GPPA Benevolent Fund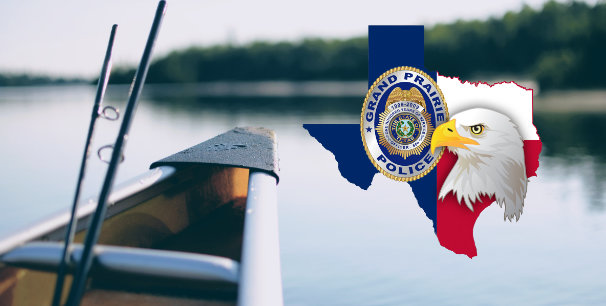 When:

September 23, 2023

Where: Joe Pool Lake Lynn Creek Park
5700 Lake Ridge Parkway
Grand Prairie, TX 75052
Details:
1 or 2 Man Teams
$100 per team
Big Bass - $5 per person (to qualify to win the Big Bass Pot you must have entered the raffle by contributing $5)
Check-in between 5:00 am and 6:30 am
Paper registration 5:00 am to 6:30 am morning of the tournament - make checks payable to "GPPA Bass Tournament"
Weigh-in line opens at 3 pm and closes at 4 pm
FREE entry fees for Lynn Creek or Loyd Park
Make checks payable to "GPPA Bass Tournament"
For more information please contact Tournament Director, Tyler Woods (501) 951-1599 or email This email address is being protected from spambots. You need JavaScript enabled to view it.
Tournament Rules
*Anyone that has failed a polygraph or has been disqualified at any tournament is not eligible to enter*
Participation/Eligibility: The GPPA tournament is open to all anglers and will be a team event. Teams will consist of no more than two contestants. No more than two contestants per boat. Only tournament contestants are allowed in boats, unless prior approval is granted by the Tournament Director. Anglers under the age of 18 must have the signature of their parent/guardian on the entry form and must be paired with an adult over the age of 18. All contestants must have a valid State fishing license and must obey all Federal, State, and Lake specific regulations.
Registration: Entry fee is $100.00 per team. Entries must be paid before any team can start fishing. An optional Big Bass Pot is $5.00 per contestant ($110.00 total if both contestants enter the Big Bass Pot). All entrants must check in at the registration/weigh-in site that is between boat ramp #1 and #2 in Lynn Creek Park on Saturday morning beginning at 5:00am. You can register in person on Saturday morning (cash or credit card), online on the Grand Prairie Police Association website (register online at least a week in advance), or by mailing a check. Make checks payable to the Grand Prairie Police Association and mail them to the address below before September 9th, 2022: PO Box 531184, Grand Prairie, TX 75053-1184
Tournament Times: Fishing time/first cast will be 6:50am and last cast will be 3:00pm for all contestants. All teams/contestants may not leave the boat ramp until 6:30am and can then proceed to their fishing spots. All anglers/teams must be standing in the weigh-in line no later than 4:00pm for weigh-in. The weigh-in line will open at 3:00pm and will close at 4:00pm. If an angler/team chooses to weigh-in before 3:00pm, they can do so, but cannot weigh-in again. An official clock will be maintained at the registration/weigh-in site for time coordination. Trailering is allowed. Contestants may launch from any boat ramp on Joe Pool Lake. Tournament times may be changed or the tournament may be cancelled if any unsafe conditions develop, as determined by the Tournament Director.
Rules/Laws: All anglers will follow all state and federal laws. Joe Pool Lake is a special regulation lake with a slot limit of 14 to 21 inches and five fish limit per person. Only one fish over 21 inches can be retained per person. All fish must be caught from the tournament waters of Joe Pool Lake in water that is NOT designated as "off-limits" and must be caught with a rod and reel with artificial lures only. Only one rod and reel may be used at a time per angler. If an angler gets a lure stuck in the water or above the water, that angler must reel that lure in/break it off before such angler can make another cast with a different rod and reel. Contestants in boats shall not be closer than 100 feet of any boat/other contestants, unless they are invited by the boat/other contestants. The "no-boat" buoys around each pump house on Joe Pool Lake will be strictly enforced. A contestant may cast their lures past such buoys, but no boats/watercraft may enter such areas. Any rule/regulation violations observed by any contestant must be reported to the Tournament Director along with any evidence of such violation prior to the published tournament end time.
Scoring: Each team will be allowed to weigh-in four bass under 14 inches for a total stringer weight which will determine the winning position. This will be a 4 under bass tournament. A bass 21 inches and over can be weighed for big bass only. All illegal fish (slot fish) will be disqualified. Only largemouth bass may be weighed and they will be weighed to the hundredth of a pound with a certified scale. Bass under 14 inches will be measured by closing the mouth, pushing the mouth against the measure board, and swiping the tail; along with a bass over 21 inches. A bass under 14 inches may touch the 14 inch line, but not go over it. A bass over 21 inches may touch the 21 inch line, but not go below it. Participants are not allowed to, in any way, alter the length of a fish. Tail clipping will not be allowed and any fish turned in for weigh-in will be examined by any means necessary to deem any presented fish as unaltered. All fish must be brought to weigh-in in a tournament weigh-in bag. All ties will be decided by a coin flip. All final decisions will be made by the Tournament Director. All contestants shall use any means available to keep fish alive. Any dead fish brought in will be disqualified and will not be weighed. All live fish will be released back into Joe Pool Lake. Each boat/watercraft used during the tournament must be equipped with a properly aerated live well.
Safety: Any boat may be used if it meets all state and local requirements. Coast Guard approved personal flotation devices must be worn anytime the combustion engine is in operation. The driver of the boat must have an emergency shut off devise (kill switch) properly attached when the engine is running. All boats/watercraft operated before legal sunrise time must contain the proper navigation lights required by law. A friendly environment will be maintained. Profanity or aggressive gestures will not be allowed and sportsmanlike conduct will be expected by every contestant.
ADDED COVID-19 RESTRICTIONS AND SOCIAL DISTANCING GUIDELINES: Safety will be a top priority to ensure a safe environment for everyone. Please do not group up and maintain the recommended 6 feet Covid-19 social distancing guidelines. Masks, buffs, or other facial coverings are not mandatory, but are highly encouraged. Tournament officials or sponsors will not be held liable for any claims of injury, accident, damage, or lost or stolen property incurred in connection with this event.
The Grand Prairie Police Association shall have the right to publish photographs, video, and voice recordings taken by Tournament Officials, Staff, Sponsors, Affiliates, or Volunteers.